PARKHEAD CANAL FESTIVAL 29th & 30th SEPTEMBER
The Parkhead Canal Festival is organised jointly by
The Worcester-Birmingham & Droitwich Canals Society and
The Dudley Canal & Tunnel Trust
A Facebook page has been set up for this festival which you can view by clicking HERE.
Booking forms are available to download below. Please click on the one you require.
Boat Booking Form: WORD or PDF
Trade Booking Form: WORD or PDF
Exhibit Booking Form: WORD or PDF
If you have any queries about Trade or Exhibit bookings then please contact David Wheeler on 07970 711038 or email chairman@wbdcs.org.uk. For any queries about boat bookings please contact John Hemingway (Harbour Master) on 0121 445 2223 or email editor@wbdcs.org.uk.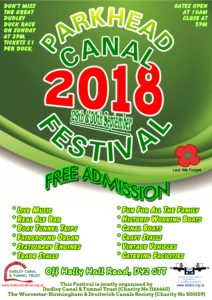 If you would like to download a pdf version of the flyer in A5 then please click HERE
GCB Falconry will be at the festival. More details are on their Facebook page.