THE MIGHTY TARDEBIGGE FLIGHT CHARITY FUNDRAISER
The mighty Tardebigge Flight charity fundraiser!
Home Edventures (Midlands) are a community group run by volunteers, who arrange educational events and activities, for home educated children in our region.
We have worked with Worcester Birmingham and Droitwich canal society for many years, running educational trips, with our families joining the society and becoming volunteers themselves.
Because of these close links, this month our children from age 7, will be taking the WB&DCS narrowboat 'Cecilia', down the mighty Tardebigge flight, our local and Britain's longest lock flight in Britain, to raise money for the society.
Our kids will b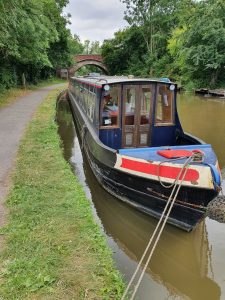 e working the 30 locks, learning how to handle the boat and work the locks as they go.
All sponsorship will be used to keep WB&DCS narrow boat 'Cecilia' well maintained and operating for the use of all community groups and charities.
We'd appreciate your support through Just Giving using this link: www.justgiving.com/team/TardebiggeChallenge and ask anyone who can pop down to the canal to offer moral support on the day, a wave and any encouragement you can offer with be much appreciated.
The challenge will set of from Tardebigge top lock around 11am on the 23rd of September, working it's way down the flight over the day, aiming to arrive at the Queens Head around 3pm, depending on weather and canal traffic.
On the 24th of September we'll leave the Queens Head around 10.30am travelling up the flight and aiming to be at Tardebigge top lock for 2.30pm.
We couldn't do this without the fantastic support of WBDCS volunteers and Canal and river trust lock keepers who promise to turn out for us on the day. We hope to raise a good sum to say thank you for all the WBDCS have done for our group, and so many others over the years.
If you have any enquiries about this event please contact julie.wbdcs@yahoo.com or message through our facebook group.